UK fire alarm regulations can feel less than straightforward if you're not a fire safety professional.  Below, we provide a simple guide to the latest UK fire alarm legislation.
Fire alarm regulations form part of 'The Regulatory Reform (Fire Safety) Order 2005', known as the 'RRO'.
In addition, the UK government recommends that all fire alarm and detection systems should be installed and maintained in accordance with the relevant British Standard, BS 5839 (our guide below is based on BS 5839).
As a professional business that has been trading for many years, we understand that there can be confusion around the exact requirements of the UK fire alarm legislation. Some of the most common questions that we hear are:
– Do I need a fire alarm?
– How often should fire alarms be serviced? and
– How do I carry out a weekly fire alarm test?
We answer these questions and more in our simple guide below.
---
1. Do I need a fire alarm?
The current UK fire alarm regulations state that all business premises must have an appropriate fire detection system installed. This means that if a fire does break out that it can easily be detected, and occupants can easily be warned.
This does not necessarily mean that all business premises will need a fire alarm system.
You are unlikely to need a fire alarm system if all of the following statements are true:
Your premises are small, simple, and single-story or open-plan
You don't store any high-risk substances, such as chemicals
You don't undertake any high-risk activities, such as cooking
You don't have any vulnerable occupants, such as the very young, elderly or disabled
A fire would be easily spotted if it broke out anywhere in the premises
A shout of 'fire!' would be easily heard by all occupants
If one or more of the above states does not apply to your business, then you will need a fire alarm system installed. If you're in any doubt, then you should check over Fire Risk Assessment and check to see if it states whether or not you need to have an automatic fire detection system installed.
If you don't have a Fire Risk Assessment then we would recommend you carry one out first, as this is the cornerstone of your business's fire safety plan (read more here).
---
2. What type of fire alarm do I need?
There are 3 main types of fire alarm systems that you need to think about, and they are: conventional, addressable and wireless. Below we will explain what each different type of alarm does.
Conventional Fire Alarm
–    divides your premises into broad zones
–    in the event of an alert, the fire alarm panel identifies the zone, but not the precise area
–    most suitable for smaller or lower risk environments
Addressable Fire Alarm
–    each individual device has its own unique electronic address
–    if one activates, the fire alarm panel tells you precisely where the problem is
–    most suitable for larger or higher risk environments – e.g schools, care homes, hospitals
Wireless Fire Alarm
–    uses a secure wireless link between the sensors and the fire alarm panel
–    typically works like an addressable system, just without the wires
–    most suitable for premises which don't want lots of cables – e.g. churches, historic buildings
The UK's fire alarm legislation does not specify exactly which type of fire alarm system should be used in different types of premises. It comes down to what is appropriate for your business.
To make sure that you get the correct fire alarm for your business to meet the UK fire alarm regulations you can check our Fire Alarm Systems page on our website. This will give you a bit more of an overview of the types of systems that we install for business in the London area.
---
3. What are the fire alarm system 'grades' and 'categories'?
This can become a complex area but in simple terms, grades and categories define how your fire alarm system should be constructed (grades), and which areas of your premises it should cover (categories). Here we go into more in-depth detail about grades and categories to help you understand it a little bit better.
Grades
Fire alarm grades run from 'A' through to 'F', with 'A' being the highest grade and 'F' being the lowest.
Residential buildings can usually meet UK fire alarm regulations with a lower-grade system (D-F). These are not wired into a central control panel and may not have back-up battery power.
However, businesses generally need a more substantial system to comply with UK fire alarm legislation – from 'A' through to 'C' grade.
At a very simplistic level, these higher-grade systems are wired into a central fire alarm panel, connected to the mains power supply, and have a back-up power supply connected in case of a power outage to the building.
Categories
There are 2 main categories:
– Category 'P' systems – protect property
– Category 'L' systems – protect life

Category P systems are usually installed at the request of insurers.
Choosing which grade and category your business comes under are all dependent on the nature of your business, the size of your premises and the layout.
The grade and category that you need should be specified in your Fire Risk Assessment or advised by whoever is designing your fire alarm system. This needs to meet the British Standard BS 5839 standards.
---
4. Who can install a fire alarm system?
UK fire alarm regulations make no requirement as to who can install a fire alarm, other than that they must be 'competent'.
This, therefore, means that the person or company who installs your fire alarm should:
–    understand the various types of the fire alarm system and how they work
–    be familiar with the main makes and model of fire alarm
–    be able to identify which grade and category of fire alarm system you need
–    be able to design a fire alarm system to meet the grade and category requirements
–    have a good understanding of British Standard BS 5839
–    be able to design a system to meet BS 5839 requirements
–    have sound electrical knowledge
All of our electricians have a good understanding of the British Standard BS 5839 and have installed hundreds of fire alarm systems to businesses in the London and Kent Area. Just have a look at our portfolio to see some of the works we have completed.
---
5. How often should a fire alarm be serviced?
Both the UK fire alarm regulations and BS 5839 have different views on this. The UK fire alarm regulations only state that your fire alarm must be 'adequately maintained'. Whereas BS 5839 recommends that a fire alarm system should be inspected by a competent person at least every 6 months, the government recommends that businesses follow this standard.
If you work out of a large premise, FBS Electrical Services would highly recommend a quarterly service, as there are far more components to the system. Therefore, this could increase the opportunities for something to go wrong that would need to rectify to keep your system working to its full potential.
---
6. Why is fire alarm servicing important?
Having your fire alarm serviced is just as important as having your car or boiler serviced. It helps extend the life of the system and makes sure that all components are working as they should.
There are 2 main reasons to keep your fire alarm in working order:
1.     To alert occupants in the event of a fire and so prevent loss of life
2.    To prevent false alarms
Whilst the 1st reason may seem obvious, the 2nd reason is less well known.
Did you know that the London Fire Brigade attended around 38,000 false alarms in 2017. That's roughly 104 every day in London alone. The London fire brigade has also been thinking about a charge for false visits. You can read more about these stats by click here.
This can incur a lot of expenses on the fire brigade and a false alarm could cost the taxpayer around £2,900. This cost could be passed onto the business that raised the false alarm under the Localism Act 2011. Since the fire brigade has been imposing the costs onto business with a lot of false alarms, they have seen a rise in Fire Alarm Inspections for businesses in the London area.
---
7. What is weekly fire alarm testing, and do I have to do it?
Testing your fire alarm weekly is different from having it serviced. It doesn't require a professional to carry out the test. This doesn't mean that your system doesn't need to be serviced!
Weekly testing of your system is more of a spot check to make sure that your fire alarm is working correctly. A service is a thorough investigation of the entire system. It comes with a report to say you have had it tested and any faults found are either fixed or quoted for.
It is a regulatory requirement to have a fully operational fire alarm for the premises that need them. That's why regular testing is important. There have been some very expensive fines for both businesses and landlords that haven't had their fire alarm systems checked. Visit the Stay Legal website to see the top 25 expensive fines for fire safety breaches, they also explain the Fire safety breaches which caused the fine and how it could have been prevented.
Testing your fire alarm weekly is guidance that comes from the British Standard BS 5839. This is the standard the UK government recommends and that it should be followed to keep on top of your fire alarm maintenance.
You could decide to test less frequently, however, you would need to explain why you've deviated from BS 5389 to any investigating fire officers, should they pay a visit.
---
8. How do you carry out a weekly fire alarm test?
The first step you should complete if your fire alarm system is connected to the fire brigade is to contact them and explain that you will be carrying out a fire alarm test at a certain time. This will prevent a false call from being logged and potential fire brigade turning up at your premises.
Your weekly fire alarm test should be carried out by your 'responsible person'. This could be the manager that is on duty or the caretakers. Although you should bear in mind that if you look after more than one property then you may prefer to have a professional carry out tests on your premises at weekly intervals.
Each weekly test should activate at least one fire alarm call-point and check that the alarm sounds and that the fire alarm panel is receiving the signal. Each week you should test a different call point.
Once you've finished your test and everything is successful you should reset your fire alarm panel. If you have an issue during the test, then you should contact your fire safety company to come and investigate.
Once all of this has been completed, the last step is to record the test in your fire alarm logbook, this should include the location of the call point that was tested.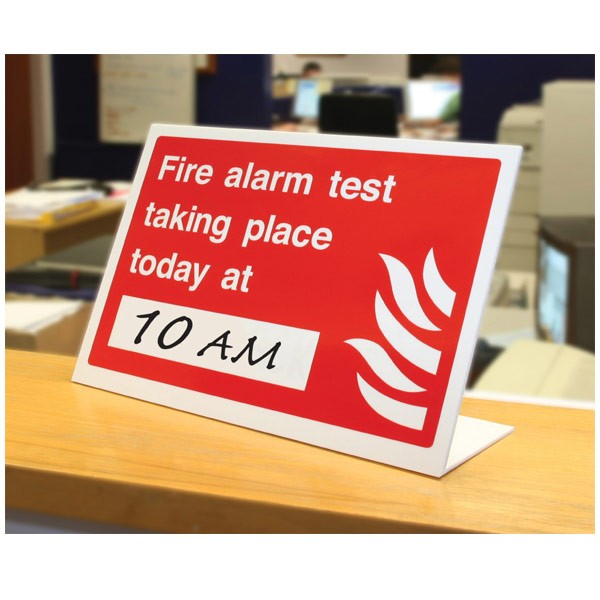 ---
9. What should I do if something goes wrong with my fire alarm?
If you find out that there is something wrong with your fire alarm, for example:
–    an alarm is sounding but there's no fire
–    light on your fire alarm panel says there is a fault
–    your fire alarm panel is beeping
–    there's no power going to your fire alarm panel
Then you must report it to your fire protection company in the first instance. This is because your system can't be considered 'adequately maintained' if there is a faulty and you would then not be compliant with the fire alarm regulations. Your fire alarm company should attend site within 24 hours at the very latest, or for major faults where the fire alarm is disabled, within 4 hours.
Remember that any work carried out on your fire alarm system should be completed by a professional. FBS Electrical Services have installed hundreds of fire alarm systems for businesses throughout London.
If you require your fire alarm system to be tested or require one to be installed then please contact us on 020 8133 3459, by email on info@fbselectricalservices.co.uk or visit our Get A Quote page and fill out the details required to get a free no-obligation quotation on your fire alarm system!